Past Events
Mon 09 July 2007
6.30pm for 7pm
Institut Français, 17 Queensberry Place, London

Hervé Ferrage, French Cultural Attaché, introduced the evening, and welcomed the poets.

Abdo Wazen is a well-known Arab poet, cultural editor of the international daily newspaper Al-Hayat, and translator of Jacques Prévert, Nadia Twueni and al-Hallaj, among others. Zeinab Assaf is an upcoming new and dynamic poetic voice on her first visit to the UK. Bassam Hajjar is a philosopher poet, regarded as one of the best poets of his generation, and a translator of French fiction, poetry and literary criticism. It was very unfortunate, but completely understandable, that owing to security concerns in both Lebanon and London Bassam was not able to make the trip to the UK.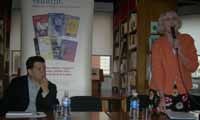 Banipal's editor, Margaret Obank, introduces the poets


Readings were in English and Arabic – the former taken from Banipal 28, which celebrated Lebanese poetry with a major feature of works by the visiting poets and 29 more. Poet and poetry translator Stephen Watts read Bassam's Hajjar's works translated by Anton Shammas while Samuel Shimon read the Arabic originals, Banipal's Margaret Obank read Zeinab Assaf's work translated by Sinan Antoon, and Farrago Poetry Slam founder and emcee John Paul O'Neill read Abdo Wazen's poem, also translated Sinan Antoon.


Abdo Wazen, John-Paul O'Neill, Zeinab Assaf and Stephen Watts at the reception


A lively discussion took place, in French and English, with many questions from the audience, which continued at the reception that followed.