Past Events
Sat 07 July 2007
2.30pm
Burgage Hall, Ledbury Poetry Festival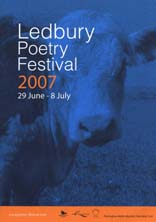 Abdo Wazen is a major poet and cultural editor of the international daily Al-Hayat. Bassam Hajjar is one of the best poets of his generation and this is his first English performance. Zeinab Assaf is a new, young and very talented modern poet and this will be her first UK appearance.


• Zeinab Assaf and Abdo Wazen with Festival Director Chloe Garner

It was very unfortunate that owing to security concerns in both Beirut and London, which everyone fully understands, Bassam Hajjar was unable to make the trip to the UK. However, with poems ready translated and the poet Stephen Watts ready to read, the event began with Bassam's poems read in Arabic by Banipal's assistant editor Samuel Shimon.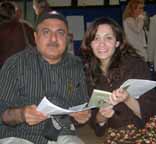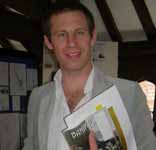 • Samuel Shimon & Zeinab Assaf • Stephen Watts • Turi Munthe


• Abdo Wazen reading his works in Arabic

• Abdo and Zeinab signing copies of Banipal for audience members
• Zeinab Assaf with Turi Munthe
As audience members made their way into the hall, a Powerpoint projection showed pictures of the poets and gave some information about the Lebanese poetry scene. The hall was packed and the audience asked for more poems to be read in Arabic.

The question and answer session at the end was non-stop, and many audience members queued for the two poets Abdo and Zeinab to sign copies of Banipal 28 which contained their poems in translation.
• Turi Munthe, Margaret Obank,
Zeinab Assaf, Stephen Watts, Abdo Wazen & Samuel Shimon
After Bassam's poems were read came Zeinab Assaf, with Banipal's editor reading the English translations. Turi Munthe performed Abdo's poems in English, like Stephen Watts, both were terrifically powerful and sensitive readers. Turi Munthe then compered the Q&A session at the end, which was conducted mainly in French and English, both poets being fluent in French.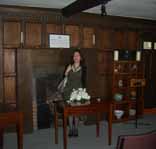 • A remarkable historical place to visit was Ledbury's oak-panelled Marriage Room, said to be the place where W H Auden married the daughter of Thomas Mann, to save her from falling into the hands of the Nazis.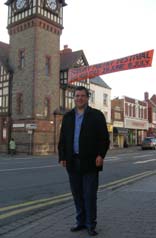 • Abdo Wazen in Ledbury High Street, in front of the Clocktower













• Zeinab and Margaret in historic Ledbury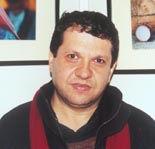 For a selection of Abdo Wazen's poems
in English translation click
here
For a selection of Zeinab Assaf's poetry
in Banipal No 28 click
here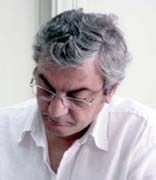 For excerpts of Bassam Hajjar's work
in Banipal No 28 click
here

This event is a partnership of Ledbury Poetry Festival and Banipal.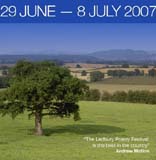 The visit of the poets to the UK was made possible by the collaboration and support of Banipal, Decibel, Literature Across Frontiers, Xanadu* Gallery & the British Council for Arts

For more about the annual Ledbury Poetry Festival – click here
To find out where Ledbury is – click here
To find out more about Ledbury town, in the Herefordshire countryside, click here