Past Events
Thu 11 January 2007
7pm
Afaq Bookshop, Qasr Al-Aini Street, Cairo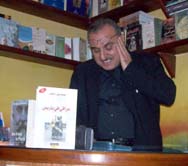 Writes Ahmed Maged: "An Iraqi in Paris" is a story replete with ambition, mishaps, disappointment and hope that could be best captured by reading the book, has received rave reviews by Arab and non-Arab critics.

When Shimon, an Assyrian Iraqi, set off from Iraq, he was heading to Hollywood, the object his dreams as a young man. Since he was a child, he has wanted to be an international filmmaker and did not compromise on the American film hub as a starting point.

Fate, however, had willed otherwise . . .