Yassin Adnan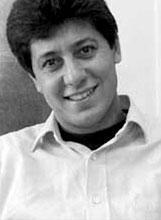 Yassin Adnan was born in 1970 in Safi, Morocco. He has published nine works, four of poetry and four of short stories, and with Saad Sarhan, the bilingual prose poem/essay, Marrakech: Open Secrets, published in its entirety for the first time in English translation in Banipal 48 – Narrating Marrakech. In 1991 he published, with Saad Sarhan, a literary magazine Aswat Muassira [Contemporary Voices], and later, with Saad Sarhan, Taha Adnan and Rashid Nini, the magazine al-Gharah al-Shiriya [Poetic Attack].
After teaching English in a high school, he became a TV presenter, becoming well known for his weekly cultural magazine "Macharif" on the Moroccan television channel Alaoula. He is currently conducting interviews with cultural and literary figures from the Arab world in a TV series called Bayt Yassin (Yassin's House) (https://www.youtube.com/watch?v=9ya9Z5sptFY&feature=share)
He studied English Literature at the University of Marrakech (BA, 1992) and earned a Diploma in Educational Science at the University of Mohammad V in Rabat. His literary awards include the prizes of Moufdi Zakaria (Algeria, 1991), of the Union of Writers in Morocco (1998) and the Buland al-Haydari prize for the young poet (Assilah, 2003).
His novel Hot Maroc was longlisted for the 2017 International Prize for Arabic Fiction, and a chapter published in Banipal 59 – The Longlist, and available to read online here.
---
Contributor's Issues
Banipal 48 - Narrating Marrakech (2013)
Banipal 59 - The Longlist (Summer 2017)