Ezzedine C Fishere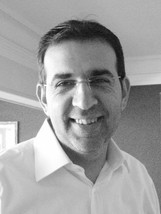 Ezzedine Choukri Fishere is an Egyptian writer and diplomat. Born in Kuwait in 1966, he grew up in Egypt, where he graduated from Cairo University in 1987 with a BA in Political Science. After graduation, he attended a number of universities in France and Canada and attained an International Diploma in Administration from The National School of Administration, Paris (1990-92).
He went on to gain a Masters in International Relations from Ottawa University (1992-95) and a doctorate in Political Science from Montreal University (1993-98). He became a diplomat, leaving the service in 2007, and then teaching political science at the American University in Cairo. He has also lectured at a number of other universities.
In addition, he writes political articles for several Arabic, English and French periodicals and newspapers. He became a sought-after analyist and political adviser during and after the tumultous revolutionary period in Egypt from January 2011.
In 2016 he moved to the USA, where he teaches Middle East Politics at Dartmouth College, while continuing to write fiction and analytical essays.
---
Contributor's Issues
Banipal 69 - 9 New Novels (Autumn/Winter 2020)
Banipal 43 - Celebrating Denys Johnson-Davies (2012)