Mohamed Choukri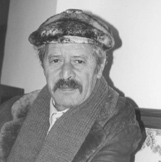 (15 July 1935 – 15 November 2003)
Mohamed Choukri, one of Morocco's great contemporary writers, died November 2003 of cancer. He was 64 years old. As a child in Tangiers he scavenged for food in garbage bins, but on the day of his death his loss was felt deeply across the Arab world. He had become such a renowned figure that King Mohammed VI paid tribute to him, saying: "The cultural scene of our country has lost one of its pioneers in the art of the novel."Mohamed Choukri is known mainly for his debut novel For Bread Alone that was published first in English, translated by Paul Bowles, in 1973 after being banned by the Moroccan government. It was eventually published in Arabic in 1982. The book broke all taboos in the Arab world, being a stark autobiographical novel of a young street kid's struggle to survive and get an education. At that time no other Arab author had written so openly and honestly about the outsiders of society, the prostitutes, homosexuals, the destitute, thieves and conmen.

In a tribute to Choukri, Lebanese poet Abbas Beydoun described how for many years Choukri was known in the Arab world only as a name with a foreign-language text. And the reason for his great success as a writer, wrote Abbas Beydoun, was his simple and straightforward language that paid no attention to any possibilities of censorship, whether religious or social. Choukri did not know how to hide anything. He wrote what he had seen and what he imagined. When Le Pain nu, the French translation by Tahar Ben Jelloun, was published in 1979, Choukri became a real celebrity. But, in an interview with Samuel Shimon in Banipal No 5, Choukri said that the "overwhelming success of For Bread Alone has crushed me". He didn't write again for nearly 20 years.

Choukri was born into a poverty-stricken family in Beni Chiker village in the Rif mountains, during a devastating famine. The family were forced to move to Tangiers where, because of the violent abuse he suffered at the hands of his father, Choukri left home when he was only 11 years old. In spite of his terrible circumstances, he was determined to learn to read and write, and eventually started school at the age of 20.
He wrote and published his first short story in 1966, when many international writers lived and stayed in Tangiers. Choukri became friends with many, such as Paul Bowles, who became his translator, Tennessee Williams, Jean Genet, Samuel Beckett and William Burroughs. He wrote altogether three novels, all mainly autobiographical, and two collections of short stories, the first in early 1970s that was almost sold out before being banned (now reprinted in Germany), one play and a book of literary reflections.
Moroccan poet Mohammed Bennis recalled that Choukri always greeted him with the words "I am your spiritual father". He often told Bennis he feared dying at home, where he lived alone, because he would lie there forgotten. He was to live his last hours in the Military Hospital in Rabat.
---
Contributor's Issues
Banipal 73 - Fiction Past and Present