Khaled Khalifa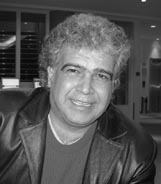 was born in Aleppo, Syria, in 1964 and holds a BA in Law from Aleppo University. He has written many successful screenplays for TV series as well as for the cinema. He also writes regularly in different Arabic newspapers. He continues to live in Damascus. His article in 2016 written for the International Berlin Literature Festival on the turmoil of being Syrian, is published by Banipal with agreement. To read it in full, click here.
He published his first novel in 2000, The Notebooks of the Bohemians.
His second, In Praise of Hatred (Amisa, Damascus, 2006), was excerpted in Banipal 31 (2008), translated by Max Weiss. It was short-listed for the 2008 International Prize for Arabic Fiction, and published in English translation in 2013, translated by Leri Price, though the publisher's edited cut a final section from the book without apparently either the author or the translator realising the extent of the cut. In this novel, set in his native Syria, he narrates the experience of oppression under fundamentalist organisations. In Praise of Hatred was also longlisted for the Independent Foreign Fiction Prize. Click here for more.

His third novel, No Knives in the Kitchens of this City, was awarded the Naguib Mahfouz Medal for Literature in 2013 and then shortlisted for the 2014 International Prize for Arabic Fiction. Its English edition was also translated by Leri Price and was reviewed in Banipal 57 – Syria in the Heart by Laura Ferreri. Click here to read the review online.

For an interview with Khaled Khalifa in the New York Times, click here
Banipal 57 – Syria in the Heart included the opening chapter from his latest novel, Death is Hard Work (2015), also translated by Leri Price. The novel opens with son Belbol trying to deal with his father's death wish that his bones should "rest in his home village", and finding himself up against checkpoints while becoming anxious about how death was outlasting the living and how people thought about themselves as "pre-dead".
Leri Price's translation of Death is Hard Work, published by Faber & Faber in 2018, won the 2019 Saif Ghobash Banipal Prize and was a finalist for the 2019 US National Book Award for Translated Fiction.
Khalifa's latest novel is Lam Yasulli 'alayhum Ahad (No One Prayed over their Graves), published in 2020 by Hachette-Antoine/Naufal (Lebanon) and Dar Al-Ain (Egypt), was longlisted for the 2020 IPAF. In addition to his novels, Khalifa has written numerous scripts for TV dramas and films, several of which have won awards.

He is represented by the literary agency Raya Agency. For more details on the Agency's website about his work and translations, click here.
---
Contributor's Issues
Banipal 70 - Mahmoud Shukair, Writing Jerusalem
Banipal 57 - Syria in the Heart (Autumn/Winter 2016)
Banipal 49 - A Cornucopia of Short Stories (2014)