Mohammed Hasan Alwan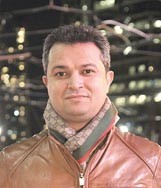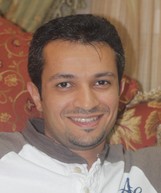 was born in Riyadh, Saudia Arabia in 1979. He has four novels (Banipal 26 includes a review of Sophia) and a collection of short stories, two of which, "Blonde Grass" and 'Statistics" were commissioned for Banipal 30, translated by Ali Azeriah.
He was selected as one of the 39 best Arab authors under the age of 40 by the 2009-2010 Beirut39 project of the Hay Festival and Beirut World Book Capital, (for an interview with him click here ) and later joined the first writers' workshop (nadwa) of the International Prize for Arabic Fiction.
His work has been published in the Beirut39 Anthology, edited by Banipal's editor Samuel Shimon, and in Emerging Arab Voices – 1, the collection of creative writing from the IPAF workshop, edited by IPAF trustee Peter Clark.

Check out Mohammed's own website for the two short stories published in Banipal 30, and click here to read the review of his novel Sophia.

His novel Al-Qundus (The Beaver), was shortlisted for the 2013 International Prize for Arabic Fiction. It was earlier excerpted in Banipal 44, after being the subject of a literary translation workshop at the British Centre for Literary Translation (BCLT), led by Paul Starkey. Click here to read it.
In 2017 he won the International Prize for Arabic Fiction for his novel Mawt Saghir (A Small Death). Click here for the IPAF report on his winning. The novel is described there as "a fictionalised account of the life of Sufi saint Muhyiddin Ibn 'Arabi, from his birth in 12th century Muslim Spain to his death in Damascus. It follows his mystic Sufi experience and heroic travels from Andalusia to Azerbaijan, via Morocco, Egypt, the Hijaz, Syria, Iraq and Turkey. Of a sensitive and anxious nature, Muhyiddin struggles with inner turmoil throughout the course of his travels. Witnessing fictitious events including savage military conflicts, he attempts to fulfil his mission against a backdrop of states and numerous cities where he meets countless people."
---
Contributor's Issues
Banipal 30 - Autumn/Winter 2007
Banipal 68 - Short Stories (Summer 2020)
Banipal 44 - 12 Women Writers (2012)
Banipal 58 - Arab Literary Awards (Spring 2017)
Banipal 59 - The Longlist (Summer 2017)
Banipal 46 - 80 New Poems (2013)
Banipal 59 - The Longlist (Summer 2017)