Adonis
was born Ali Ahmad Said in Kassabeen, Syria, in 1930, and adopted the name Adonis when he was 17. He co-founded Sh'ir poetry magazine and later formed Muwaqaf. He is an internationally renowned poet, essayist, and theoretician of poetics.
Recent News from Adonis
27/1/12 : The Guardian has published a lengthy interview with Adonis, Adonis : A Life in Writing, conducted by Maya Jaggi. This follows his success in the Saif Ghobash Banipal Prize for Arabic Literary Translation where Khaled Mattawa's translation of his work, Adonis : Selected Poems (Yale University Press, 2010), won first prize. To read the Guardian interview, click here. For information on the Prize, click here.
In summer 2011, Banipal 41 was dedicated to Celebrating Adonis. It includes a new translation by Khaled Mattawa of Adonis's masterful Concerto for Jerusalem as well as heartfelt tributes from friends, poets and scholars. The issue features messages and articles from, among others, V.S Naipaul, Yang Lian, Roger Allen, Khaled Mattawa, Stephen Watts and Joachim Sartorius. For more information about Banipal 41 click here.

To buy a copy click here

To read an interview with Adonis in Banipal 2, by Samuel Shimon and Margaret Obank, click here.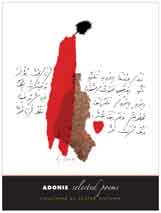 Yale University Press's book, Adonis: Selected Poems was also shortlisted for the 2011 Griffin Poetry Prize. The poems were all chosen and translated by Khaled Mattawa from the full range of Adonis's poetry collections over the years.

For more details of the book, click here.

To watch Khaled Mattawa reading at the Giffin Prize award on YouTube, click here


To read an interview with Adonis, who is "regarded as the grand old man of poetry, secularism and free speech in the Arab world", on the events in Syria, published in Gulf News in July 2011, click here.

For more on Adonis's Open Letter to the Syrian President Bashar al-Assad in June 2011, from a namesake, click here.
Adonis, who has championed democracy and secular thought in the Middle East for years, was awarded Germany's premier literary prize, the Goethe Prize, in May 2011. He received the award in Frankfurt, Goethe's home town, on 28 August 2011.
"The selection committee considered Adonis the most important Arab poet of his generation and granted him the prize for his cosmopolitan (work) and contribution to international literature," the German government said in a statement. For more, click here.

In 2009 Adonis was awarded the Spiros Vergos Prize for Freedom of Expression at the Laterna Magika Theatre in Prague by Michael March, drector of the Prague Writers' Festival.
---
Contributor's Issues
Banipal 39 - Modern Tunisian Literature (2010)
Banipal 41 - Celebrating Adonis (2011)
Banipal 45 - Writers from Palestine (2012)
Banipal 33 - Autumn/Winter 2008