Amal Nawwar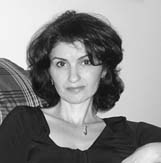 is a Lebanese poet and translator, who was born in Kuwait in 1964, and grew up in Sidon, Lebanon. She later moved to Beirut for continuing education before obtaining a first degree in accounting.

Between the late eighties and early nineties, she was an active contributor to the cultural pages of the Lebanese daily An-Nahar. She emigrated to Canada in 1992, and worked in the banking industry, and continued to work in that field after moving to the United States where she presently lives.

A few years ago she resumed her literary journalism and writing, and in 2004 published her first poetry collection A Crown on the Edge (Dar Al-Farabi). She published her second poetry collection in spring this year Hers Is Blue Wine and Intimate to Glass, published by Dar Al-Nahda. Her poems have been translated into French and Spanish. Currently, her poetry, reviews and translations are published in the daily An-Nahar and Al-Hayat newspapers, as well as on Arabic literary web sites.
---
Contributor's Issues