Salah Stétié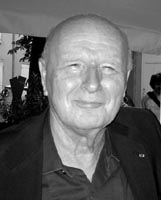 Salah Stétié was born in Beirut in 1929. He is an internationally renowned poet, essayist and critic and has been writing and publishing his poetry since the mid 1960s.

He established a cultural weekly journal, L'Orient littéraire in Beirut, which played an important role in communicating the new developments in writing and thought from the Arab world to the west, particularly France. Living in France, he worked with the principal cultural and literary journals there.

For many years held official positions – as Lebanon's permanent delegate to UNESCO in Paris, later Lebanese Ambassador to Morocco, then the country's Minister for Foreign Afffairs, and later Ambassador to the Netherlands.

In 1995 he was awarded the Grand Prix de la Francophonie. He has published numerous collections of his own poetry and essays. In 2006 he received the Smederovo Award of Serbia, the oldest poetry award in Europe.

See Salah Stétié's website for fuller information.
---
Contributor's Issues