Rachida el-Charni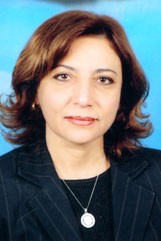 Rachida el-Charni was born in Tunis in 1967. By 1981 she was studying law and also started publishing her short stories in Arab magazines and newsapers.

Her first collection was published in 1997, winning her the prize of the Centre of Arab Woman for Training and Research in Tunis. Her second collection (2000) was awarded first prize for Arab Women's Creative Writing in Sharjah, but only after a ruling by censors that she change its title God Loves Me, Credo (the title story).

In 2002, a new edition was published in Beirut, with the title Saheel al-Asaila (The Neighing of Questions) and the inclusion of the censored story.

Her first novel Tarateel li-Alamiha (Hymns for her Pain) was published in 2011 by Arab Scientific Publishers, Beirut. Rachida lives in Tunis where she works as an inspector of primary schools.
---
Contributor's Issues
Banipal 44 - 12 Women Writers (2012)
Banipal 39 - Modern Tunisian Literature (2010)
Banipal 10 - /11, Spring 2001/Summer 2001