Iman Mersal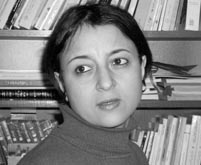 was born November 1966 in Mansourah, Egypt. She began publishing poetry at age sixteen and has since published four collections: Ittisafat [Characterizations] in 1990, Mamarr Mu'tim Yasluh li Ta'allum al-Raqs [A Dark Passageway is Suitable for Learning to Dance] in 1995 and al-Mashy Atwal Waqt Mumkin [Walking As Long As Possible] in 1997. Her latest collection is Jiughrafia Badeela [Alternative Geography](2006).

In 1998, she moved to Boston and from there to Edmonton, Canada where she teaches Arabic language and literature at the University of Alberta. She is currently has one work in press: a co-translation of Waguih Ghali's Beer in the Snooker Club.
These Are Not Oranges, My Love, a selection of her poetry translated into English by Khaled Mattawa, came out with Sheep Meadow Press, USA, in 2008.
---
Contributor's Issues
Banipal 10 - /11, Spring 2001/Summer 2001
Banipal 38 - Arab American Authors (2010)