Bensalem Himmich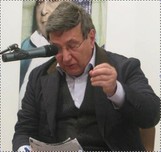 Bensalem Himmich was born in Meknès, Morocco in 1949. He has published eleven novels, four collections of poetry, and a number of volumes of essays and literary criticism. He writes in both Arabic and French. He is professor of philosophy at Mohamed V University in Rabat and was Minister of Culture of Morocco from 2009 to 2012.


His novel The Theocrat (Majnun al-Hukm) won the al-Naqid Award, the Riad El-Rayyes Prize and was chosen by the Authors' Union in Egypt as one of the best novels of the twentieth century. He won the Great Atlas Prize for his historical novel Al-'Alaama (The Polymath) dealing with the life of the philosopher Ibn Khaldun,
as well as in 2001 the prestigious Naguib Mahfouz Medal for Literature. The awarding committee said of the novel: "The elusive simplicity and fluency of style manage to entertain and instruct at once. We learn as we read about Ibn Khaldun: his insights into history and historiography, his views of the rise and fall of civilizations, the principles of his sociological thinking, along with intimate aspects of his life, including his tragic losses and his attitude toward women. We also learn of his response to the major crisis of his time, the Tatar invasion of the Mashriq. In short, Ibn Khaldun, the distant and formidable figure, is humanized—thanks to this novel."

Roger Allen translated both the above novels, and won the 2012 Saif Ghobash Banipal Prize for Arabic Literary Translation for his translation of a third novel by Bensalim Himmich – Hadha Al-Andalusi! – the English title being A Muslim Suicide.

Himmich's novel Mu'adhdhibati (My Torturess) was shortlisted for the 2011 International Prize for Arabic Fiction and Hadha Al-Andalusi! was nominated for the same prize a year earlier.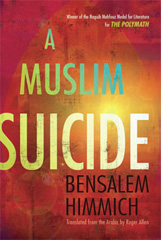 A Muslim Suicide was described by the judges of the Saif Ghobash Banipal Prize as "a highly ambitious and erudite work that opens up remarkable historical, cultural and religious perspectives on the Islamic heritage". For more about the 2012 prize, click here.

Bensalem Himmich is pictured above at a discussion with Roger Allen, in celebrating the prize award in London in February 2013.
---
Contributor's Issues