Jalal Barjas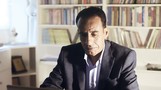 Jalal Barjas is a Jordanian poet and novelist, born in 1970. He works in the field of aeronautical engineering. For many years, he wrote articles for Jordanian newspapers and headed several cultural organisations. He is currently head of the Jordanian Narrative Laboratory and presents a radio programme called "House of the Novel".
His published work includes two poetry collections, short stories, travel literature and novels. His short story The Earthquakes (2012) was winner of the Jordanian Rukus ibn Za'id ʻUzayzi Prize. His novel Guillotine of the Dreamer (2013) won the Jordanian Rifqa Doudin Prize for Narrative Creativity in 2014, and Snakes of Hell won the 2015 Katara Prize for the Arabic Novel, in the unpublished novel category, and was published by Katara in 2016. His third novel Women of the Five Senses (2017) was longlisted for the 2019 IPAF Award.
His novel Daftatir al Warraq (Notebooks of the Bookseller) was awarded the 2021 IPAF.
---
Contributor's Issues
Banipal 71 - Salutes Ihsan Abdel Kouddous