Rabia Djelti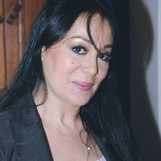 Rabia Djelti is an Algerian novelist, poet and academic, currently a professor of contemporary literature in the Faculty of Arts and Languages, University of Algiers.
Her debut poetry collection came out in 1981, followed by five more. Since 2010 she has published ten novels, the latest entitled Gilgamesh and the Dancer.
An excerpt from her novel Qalb al-Malak al-Aali (Heart of the Robot Angel), translated and reviewed by Sara Slim is part of the main feature of Banipal 69 – 9 New Novels. Innovative science fiction, the novel addresses age-old and contemporary issues of humanity's madness and brutality towards both nature and its own kind.
---
Contributor's Issues
Banipal 69 - 9 New Novels (Autumn/Winter 2020)