Feryel Lakhdar
Feryel Lakhdar is known for the freedom with which she recreates the female body in her works – their shapes and vibrant colours hint back to her architectural studies at the Paris Ecole d'Architecture, where she graduated in 1987. She is known as Feryel.
Feryel was born in Tunis in 1965, and in 1986 held her first solo exhibition in Sidi Bou Saïd, Tunisia, with 15 more over the years, in Tunisia and also in Canada, France and Corsica. She has participated in numerous group exhibitions in Tunisia, France, Egypt, Spain, Italy, Germany and Lebanon. She is represented by El Marsa Gallery, Tunisia, and Ammar Farhat Gallery, Lebanon, and has shown her work regularly at Art Fairs in Abu Dhabi, Marrakech, Dubai and Paris, with some of her paintings and sculptures acquired by the Ministers of Culture in Tunisia and UAE, and by private collectors around the world. As a plastic artist, her works now include frescoes, sculptures, designs for furniture items and porcelain tableware as well as her paintings.
"Feryel's women are the same over the years, unaltered and unalterable, callipyge goddesses, serene giants, busty beauties, foster mothers, sumptuous, flirtatious, cheeky rascals with a flashing eye, and provocative heart-catchers under an appearance of respectability . . . in a riot of turquoises and sweet fuchsias, brilliant colours and acid shades, against a background of gold and solar orange," said La Presse de Tunisie in a review of her work. Books about Feryel's works include Couleur Femme (2012), Art de Tunisie (2004) and L'aventure de l'Art Moderne en Tunisie (1997).

Feryel has shown her work on two Banipal front covers – Banipal 20, Summer 2004, with more works displayed in No 20's inside front cover; and Banipal 68 – Short Stories (Summer 2020) with more works displayed this time on the inside back cover.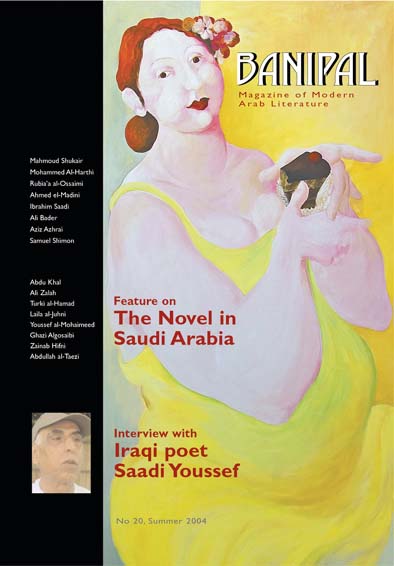 Feryel's photo is by Firas Ben Khalifa
---
Contributor's Issues
Banipal 68 - Short Stories (Summer 2020)