Sheikha Helawy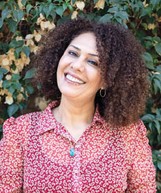 Sheikha Helawy was born in the Bedouin village Dhail al-Arj, near Haifa. She is a writer, teacher and educator with a BA in Arabic and Hebrew and an MA in Arabic and Islamic Studies, teaching Arabic in Terra Santa Secondary Schools in Jaffa, Ramla and Lod for twenty years.
She has written four story collections: Sayyidat al-Atmma (Ladies of the Dark) in 2015; Kharij al-Fesool (Outside Seasons) in 2015; Al-Nawafidh Kotob Radi'a (The Windows are Bad Books) in 2016. Her latest, Al-Talabiyya C345 (2018, Order No C345) won the 2019 Almutaqa Prize fore the Arabic Short Story, and is excerpted in Banipal 68 – Short Stories (Summer 2020).
Some of her literary works are translated into English, French, and German.
Photo © Sophie Shaar
---
Contributor's Issues
Banipal 68 - Short Stories (Summer 2020)