Fikri El Azzouzi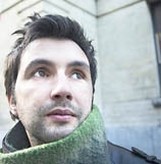 Fikri El Azzouzi is a Flemish-Moroccan author, born in 1978, who debuted in 2010 with the novel Het Schapenfeest (The Feast of the Sheep), the story of eleven-year-old Ayoub, who has to go with this father to help slaughter a sheep for the Feast of the Sacrifice, but devises the most inventive strategies to avoid doing so.

El Azzouzi is also a columnist and writes for theatre. For Drarrie in the Night and for his play Reizen Jihad (Jihad Travels), El Azzouzi was awarded the 65th Ark Prize of the Free Word, an award presented to an author notable for his or her individuality and boldness.

His novel Drarrie in the Night is excerpted in the Guest Language feature in Banipal 57, Literature from Flanders, produced with the support of the Flemish Literature Fund.
---
Contributor's Issues
Banipal 57 - Syria in the Heart (Autumn/Winter 2016)