Margaret Obank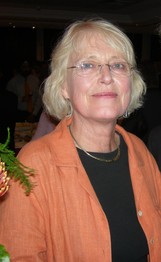 Margaret Obank is known for her contribution to the dissemination of contemporary Arabic literature in English translation. In 1997, she co-founded Banipal magazine of modern Arab literature in English translation with her husband, the Iraqi author and journalist Samuel Shimon. In 2000 they co-edited A Crack in the Wall (Saqi Books,), an anthology of poetry by contemporary Arab poets in English translation (from Banipal issues 1 to 9). In 2004 and 2006 she put on two "Banipal Live" tours of the UK with Arab authors. She established The Banipal Trust for Arab Literature, which in 2005 set up the annual Saif Ghobash Banipal Prize for Arabic Literary Translation (inaugural award 2006) and, in January 2010, the Banipal Arab British Centre Library of Modern Arab Literature in original English and English translation, with the lending library housed at the Arab British Centre. Her book publishing enterprise, Banipal Books, founded in 2005, has published works by contemporary Arab authors in translation.
She was born in Leeds, UK, and has a BA Hons in Philosophy and English Literature (Leeds) and an MA in Applied Linguistics (Birkbeck College, University of London). She was a language teacher in Bradford and lecturer in London Further Education Colleges, and spent many years in printing and publishing, starting at the Africa Publications Trust and the Africa Bureau. In April 1992, after the first Gulf War, she organised, with the Iraqi community in London, a festival of Iraqi culture "Out of Iraq" in London to celebrate the contemporary artistic and literary richness of the cradle of civilisation that was Iraq.
She is a founding trustee of the International Prize for Arabic Fiction (2007), and was a member of the Outreach Committee of the Centre for Advanced Study of the Arab World, a joint project between the universities of Edinburgh, Durham and Manchester in the UK. In 2012 she was decorated by Moulay Rashid of Morocco with the honorary order of Wissam Alaouite for services to Moroccan literature. In 2016 she was awarded, for her work on Banipal magazine, the Sheikh Hamad Award for Translation and International Understanding.
---
Contributor's Issues
Banipal 68 - Short Stories (Summer 2020)
Banipal 62 - A Literary Journey through Arab Cinema (2018)
Banipal 60 - Alaa al-Deeb, A Writer Apart (Autumn/Winter 2017)
Banipal 56 - Generation '56 (Summer 2016)