Bothayna Al-Essa (Buthaina al-Issa)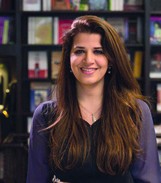 Bothayna Al-Essa (b. 1982) is a Kuwaiti author and founder of Takween, a platform for creative writing, a publishing house and a bookshop. She has a BA in Finance and Financial Institutions (2005) and an MA in Business Administration (2010), both from Kuwait University.
She has published eight novels: her first was Irtitam Lam Yusma' Lahu Dawii (A Soundless Collision), published by Dar al-Mada, Damascus (2004) – an excerpt was published in Banipal 47 – Fiction from Kuwait (Summer 2013, pp25-43).
Her latest novel is Kul al-Ashya' (All the Things), published by Arab Scientific Publishers in 2017. She also has two children's books and has contributed to the translation of specialized books on writing, creative writing, and translation.
She won Kuwait's State Appreciation and Encouragement Award twice, in 2005 for her novel Su'ar (Frenzy) and in 2013 for Kaburtu Wa Nasetu An Ansa. The latter's English translation by Michele Henjum, All That I Want to Forget, published by Hoopoe Fiction in 2018, was reviewed in Banipal 65 (Summer 2019).
Her novel Aicha Tanzil Ila al-Alam al-Sufli (Aisha descends to the Underworld) was longlisted for the 2012 Sheikh Zayed Book Award.
---
Contributor's Issues
Banipal 47 - Fiction from Kuwait (2013)
Banipal 65 - The Beautiful Creatures of Fadhil Al-Azzawi (Summer 2019)
Banipal 68 - Short Stories (Summer 2020)