Saud Alsanousi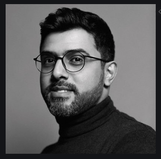 Saud Alsanousi (al-Sanousi) is a Kuwaiti novelist, journalist and winner of the 2013 International Prize for Arabic Fiction. He was born in 1981.

His first novel Sijeen al-Maraya (Prisoner of Mirrors) was published in 2010 and in the same year won the fourth Leila Othman Prize, awarded for novels and short stories by young writers. In the "Stories of the Air" competition, organised in July 2011 by Al-Arabi magazine with BBC Arabic, he won first place for his story "The Bonsai and the Old Man."

His second novel, Saq al-Bamboo (The Bamboo Stalk), won the Kuwait State Prize for Letters in 2012 and the 2013 International Prize for Arabic Fiction. Its translation by Jonathan Wright won the 2016 Saif Ghobash Banipal Prize for Arabic Literary Translation.
His third novel, Mama Hissa's Mice, was longlisted for the 2017 cycle of the prestigious Sheikh Zayed Book Award in the Young Author category. He was further longlisted in both 2019 and 2020 by the prize for his novels The Dove of the House and Saleha's Camel respectively.
Click here for more details about the international reception to his works.
For full information about Saud Alsanousi's works and awards, check out the Susijn Agency here.
Photo © Kheridine Mabrouk.
---
Contributor's Issues
Banipal 47 - Fiction from Kuwait (2013)
Banipal 46 - 80 New Poems (2013)