Yusuf Abu Rayya (1955-2009)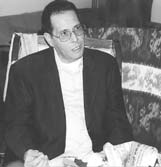 Yusuf Abu Rayya was born in Hihya in the Nile Delta. He published six short story collections, five novels, and seven books for children. He was on the governing board of the Egyptian branch of PEN International.

He was awarded the Naguib Mahfouz Medal for Literature for in 2005 for his novel Wedding Night, whose English edition by AUC Press was reviewed in Banipal 34 – The World of Arabic Fiction.

To read the review online, click here

His short story Homecoming, translated by Denys Johnson-Davies was published in that same issue, Banipal 34.
The story is included in Denys Johnson-Davies's new major collection, entitled Homecoming, of Egyptian short stories by 57 of the authors he has translated over 60 years of translating contemporary Arabic literature. Published by AUC Press, 2012.
---
Contributor's Issues
Banipal 34 - The World of Arab Fiction (2009)