Mehdi Qotbi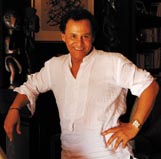 Mehdi Qotbi is the cover artist of Banipal 31, Spring 2008
To read Qotbi, wrote the poet and fellow Moroccan Mohammed Khaïredinne, you must first know how to read the tremors of fine desert sands. And to see his colours right, with their always new outlines, you have to turn to the knowledge of a sparkling diamond-cutter.

Mehdi Qotbi, born in Rabat in 1951, is a master of the intricate and precise, creating a irresistible new language of letters, shapes and colours in his mainly acrylic on canvas paintings. Living and working in France since 1969, he was made a Chevalier of the Legion d'Honneur in 2000. Qotbi studied first at Rabat's School of Fine Art, then in Toulouse, and finally at the Ecole Supérieure des Beaux Arts in Paris.

Qotbi has taught plastic arts in France from 1978 to 2006, all the while continuing his own work, exhibiting, since 1968, in France, Morocco, Germany, USA, Japan, Canada, Great Britain, Saudi Arabia, Jordan, Tunisia, Indonesia, Malaysia, the Netherlands, Brazil, Colombia, UAE and Spain, with many of his works also in both private and public collections around the world.

He has created numerous books with French and Arab poets, such as Edouard Maunick, Yves Bonnefoy, Senghor, Adonis, Aimé Césaire, Mohammed Bennis and Abdelwahab Meddeb, as well as two with former French Prime Minister and poet Dominique de Villepin, born also in Rabat.

For more information, and for Mehdi Qotbi's website, click here.
---
Contributor's Issues