Abdelaziz Baraka Sakin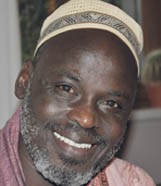 Abdelaziz Baraka Sakin was born in Kassala, eastern Sudan, in 1963. He is one of Sudan's most prominent and popular authors, writing novels and short stories. He has published seven novels and four short story collections, most of which are banned in Sudan, but circulate online.

He is a campaigner for children's rights, and lives now in Austria.
---
Contributor's Issues
Banipal 55 - Sudanese Literature Today (Spring 2016)
Banipal 56 - Generation '56 (Summer 2016)
Banipal 60 - Alaa al-Deeb, A Writer Apart (Autumn/Winter 2017)