Mohammed al-Sharekh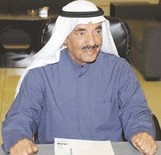 Mohammed al-Sharekh was born in Kuwait in 1942. He has a BA in Economic Development from Cairo University, and an MA from Williams College, MA, USA.
He has held many governmental positions in Kuwait, and was Founding Chairman/MD of the Industrial Bank of Kuwait in 1975.
He founded his own company Al-Alamiah in 1980, which in 1982 launched Sakhr Software Company. He was the first person to develop Arabic language software for computers and IT.
He has two collections of short stories, Ashar Qisas (Ten Stories), published by Dar Qurtas Publishing, Kuwait, in 2006 (2nd edition), and Asrar wa Qisas Oukhra (Secrets and other stories), published in 2016 by al-Badawi for Publishing and Distribution, Tunis, and one novel Al-Aela (The Family) published by Qudmos Publishing, Beirut, 2008.
Banipal 68 – Short Stories published translations of "My Son" from his first collection, and "Secrets" and "On Holiday" from the second collection.
---
Contributor's Issues
Banipal 71 - Salutes Ihsan Abdel Kouddous
Banipal 68 - Short Stories (Summer 2020)