Book Reviews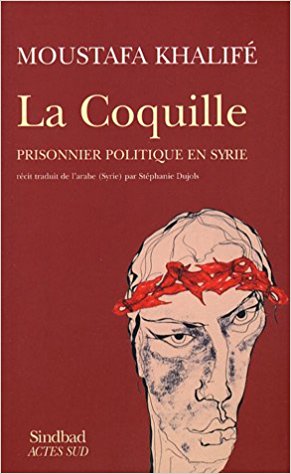 Olivia Snaije reviews
La Coquille: Prisonnier politique en Syrie
(The Shell: political prisoner in Syria)
by Moustafa Khalifé
Translated from the Arabic by Stéphanie Dujols
Babel edition, Actes Sud, France, 2012.
ISBN 978-2-330-01072-0, 330pp, pbk. €9.00
In a Country that is itself a Prison
It has been said that, in a sense, all contemporary Syrian writing is prison literature, given the absence of freedom of speech whether inside or outside a cell. Moustafa Khalifé's first, and overwhelming novel, La Coquille (The Shell), is an unqualified endorsement of this idea. Arab publishers were wary at first about printing The Shell, in which the main character, like the author, is imprisoned for thirteen years during Hafez-al-Assad's regime. Franco-Syrian editor Farouk Mardam-Bey stepped in, bringing out the book in translation in French at Actes Sud in 2007. A year later Dar al-Adab in Beirut took the plunge and published the book in its original Arabic.
The Shell, seamlessly translated into French by Stéphanie Dujols, and republished in Actes Sud's handy Babel edition in 2012, is a devastating and minute observation of the Syrian state's system of oppression and its effects on those in prison as well as the culture of fear that engendered silence on the part of the population as a whole. Of course, this is no longer the case since the civil uprising that began in 2011, but the Assad family remains in control of the country and the brutal institution of incarceration, torture, dehumanization and executions is still well in place, no more so than in the infamous desert prison, Tadmur, where Moustafa Khalifé was held. Tadmur was closed in 2001 but was regrettably reopened in 2011 to house anti-government protestors.
Khalifé, who studied law, was part of a radical left-wing opposition movement. He was first arrested in 1979, released a year later and arrested again in 1982 to be freed only in 1994. Although he had always dreamed of writing, before his incarceration he had focused on political activities during his free time. In prison where he had neither pen nor paper, he learned what he describes as "mental writing", a procedure perfected by the Islamists, at first to recite suras from the Qur'an, then to remember every detail about their incarceration.
The Shell is structured as a journal and begins with the parting of a couple at an airport in Paris. The unnamed narrator, who is a Christian Syrian, has spent six years in France studying film and has decided to return to Damascus definitively because in France he will always be considered a foreigner, whereas "in my country I have rights . . . my country needs people like me," he tells the partner he is leaving.
Khalifé based his protagonist on a friend, whose situation and subsequent arrest were similar, but the ostracization his character experiences in prison, because he is an atheist and thus considered an infidel, was also what Khalifé (who is Muslim) lived in part, because he too is an atheist.
Khalifé's protagonist arrives in Damascus but never makes it home from the airport. He is taken directly to a detention center, where he is tortured by beatings on the sole of the foot, the country's trademark falaqa. In the process he discovers that he is accused of being a member of the Muslim Brotherhood. He is temporarily relieved and tells them it must be a mistake; he is a Christian and an atheist, no less. When he later makes the mistake of repeating this to fellow prisoners it is the beginning of years of isolation during which time he builds a protective shell around himself.
When the narrator is transferred to the enormous prison of Tadmur, which at one time contained more than 10,000 inmates, he and over thirty other men with university degrees are savagely beaten and made to drink from the sewer.
"More than thirty screams of pain and oppression come from the more than thirty mouths of educated men; intellectuals. More than thirty minds filled with ambition, hope and dreams . . . "
The narrator is beaten so seriously that he is on the verge of death but is tenderly nursed back to consciousness and life by a doctor called Zahi, who continues to watch over him and protects the narrator from other inmates until he himself succumbs several years later to an epidemic of meningitis.
Little by little, the reader is drawn into the narrator's daily life. They are 300 men of all ages in a communal cell 15 meters long and six meters wide, ordered to lie down for 12 hours a day and to sit up for 12 hours a day. They are Muslim, many belonging to groups ranging from radical to pacifist. Because the narrator is an atheist, he is soon completely ostracized by the other prisoners.
"With time, a shell begins to form around me. It's a shell with two walls, one built of their hatred towards me (I was swimming in a sea of aversion, loathing and disgust, and trying desperately not to drown), the other built of the fear I had of them!"
At that moment he begins to be a voyeur: " . . . I opened a gap in the tough wall of my shell and I began to spy on the cell from the inside. It was the only thing I could do."
The narrator also finds that a piece of concrete in the wall is loose – he can take it out and observe the brutal goings on in the prison courtyard as well.
Inside his shell, the narrator describes his day-to-day life, which is overshadowed by collective torture, beatings and executions by brutal prison guards. Out of necessity, the prisoners are incredibly disciplined and often human among each other. Even though they do not address the narrator, he is still cared for when it is necessary, and all the inmates grieve together when tragedies and death befall fellow prisoners. There are the fedayin, who take blows in the place of the weaker prisoners. There are 23 doctors in the narrator's cell alone, who care for the ill, and even perform an appendectomy on a prisoner who is dying. The narrator donates his precious watch to the doctors who use the bits of metal as medical instruments, gaining him a few points with the other prisoners. A team of young, strong prisoners, instructed by inmates who are dentists, hold down others who need to have teeth pulled. They distribute their food fairly and wash prisoners who have lost their minds.
Khalifé does not shy away from the question of sex, or the lack of it, in prison. His character describes having to go to the toilet to masturbate in order be able to fall sleep and reflects that at that moment "if someone asked me to sum up prison in one word, I would say: a woman! Her terrible absence.".
After ten years of silence, Khalifé's narrator finds a soul mate in the form of a doctor called Nassim. They spend their days together speaking in French and playing chess; the narrator begins to doubt his own sexuality and becomes frightened: "What is happening to me? . . . I have feelings for Nassim that I have never had for other women! . . . Is it possible that prison has affected me so much as to change my psychological constitution and make me go down this road?"
The narrator also observes that "my relationship with Nassim has not drawn me out of my shell; on the contrary, I let him into my shell."
The narrator takes care of Nassim when he appears to lose his mind after he is witness to a particularly brutal event; the reader becomes conscious of how strong (or deadened) the narrator has become over the years – he has been observing similar episodes of brutality through the hole in the prison wall – and has remained sane.
When the narrator is transferred to a series of prisons after his twelfth year he is tortured horrifically but refuses to sign a false confession. "I remembered the collective cell. The hundreds of stories about people who had given in and had confessed to crimes they had only heard about from the interrogators who were accusing them! What use were their confessions? Some had been executed, the others rotted in prison. Many had died or were about to die. I got hold of myself. I was no longer the way I had been twelve years ago . . . "
When the narrator is finally released he tries to return to a semblance of normalcy. But "since I was released from prison, I feel a gulf between myself and others, even those closest to me . . . "
One of the most extraordinary qualities of Khalifé's book is that he is somehow able to balance the horror with accounts of the quotidian, so that the reader rarely feels that it is too much, and is able to continue the riveting account until the end, even having the sense of being in prison with the narrator, with the last 30 pages being perhaps the most devastating as the protagonist tries, and fails, to find a sense of normalcy in a country that is itself a prison.
Published in Banipal 50 – Prison Writing
Click to go back to Banipal 50 online contents page