Book Reviews
Margaret Obank reviews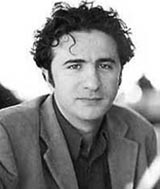 Yasser Arafat Looked at me and Smiled

by Youssef Bazzi

Translated by Rasha Salti.

Bilingual English-Arabic edition.

The Lebanese Association for Plastic Arts,

Ashkal Alwan, 2005. 128pp. ISBN 9953-0540-0

At the Gates of Hell


This novella is one of a series of bilingual English and Arabic volumes produced as part of the Beirut-based Home Works Forum on Cultural Practices that took place in November 2005. It has a secondary title of Diary of a Fighter and begins with the I-narrator joining a major militia group and being issued with his tackle of boots, uniform, ammo and a "shiny metal Russian Kalashnikov, its 11 cm muzzle sawn off". It's Summer 1981 in Beirut (and if you're old enough to remember it, you try hard not to). Immediately he is involved in a shoot-out, turning his opponents into "a burning lump of metal and flesh". Then suddenly he is a young boy at school.
Yussef Bazzi is a well-known Lebanese journalist and poet, and has the knack of writing in a simple and direct and matter-of-fact manner. It is his story: how he joins up, spending the mornings at school and the afternoons on guard, before being sucked in good and proper. Sitting his school exams on 4 June 1982, there is a roar of "warplanes and very loud explosions" – the Israeli invasion of Lebanon is beginning. He is too young to donate blood, but old enough to fight the invaders. The diary covers the most gruesome period of chaos, destruction, brutal civil war and Israeli invasion up to when Bazzi starts preparing to take his Baccalaureate exam in 1986. He deftly records militias – political and religious, organisations and leaders, with ample footnotes where necessary (different of course between the two languages), and takes the reader with him on his sorties and near-death escapes. It is an in-your-face nightmarish experience for the reader, whirled along with Bazzi to the "gates of hell". "Not a single breath of fresh air, only dust and the smell of gunpowder."
He recounts the first act of national resistance against the Israelis, just before he has to go into hiding. There in the village of Al-Ain, he reads works by the famous Arab poets Mohammad al-Maghut and Badr Shakir al-Sayyab. Did their poetry inspire him, one begins to wonder, as to date Bazzi has published four collections of his own (and won the Yusuf al-Khal poetry prize) before the fast-pacing narrative whisks the reader back into warring Beirut. Split-second images of shot-up corpses, asphyxiating smoke, speeding cars, executions, buzzing bullets, ambushes, hand grenades, hatchets, knives, mortars, bombs, rocket launchers, missiles, barricades, and, on the other hand, the young Bazzi on checkpoint duty, "wearing gold-rimmed Ray-Ban sunglasses with green lenses, a white tank-top and camouflage khakis, holding a British-made VAL rifle". All offset against underbelly images of literally bags of money (for salaries!), oblivion "doused in alcohol and gluttony", porn movies, drugs and hashish and a few gentler moments of "loving". In between school, being a body guard, and with respites from combat of gambling, drinking and whoring, the young Bazzi worked in different restaurants in Beirut, sending money to his mother, before becoming mixture of a Don Juan, an outlaw, a thief and a gang leader, as well as a survivor.
Bazzi keeps coming up for breath – "saved" for one more time, but while his diary peals back the mask from the unspeakable horrors of urban militia warfare, he is dragged deeper into the pit of damnation. "Everything started blowing up." "The stench was unbearable. I released my hands from the stretcher, sat down on the ground to let a tear roll down." Catharsis begins, and peaks when he is about to fire on a mutineer and recognises the voice of his brother. And he "was saved". Out of the war, he was saved.
Yasser Arafat Looked at me and Smiled is a book of our time, a testimony, a book shouting against war.
From Banipal 25 - Spring 2006
back to top