Book Reviews
Two novels by Mahmoud Saeed
The World Through the Eyes of Angels
Translated by Samuel Salter, Zahra Jishi & Rafah Abuinnab
Syracuse University Press, 2011. ISBN: 978-0-8156-0991-9. Pbk, 200pp, $17.95/£15.50
and Ben Barka Lane
Translated by Kay Heikkinen.
Interlink Books, USA, April 2013. ISBN 978-1566569262. Pbk, 288pp, £9.99 / $15.

From childhood memories to 1960s politics
Mahmoud Saeed is a well-known and celebrated writer in the Arab world, and he should develop an Anglophone readership as more selections from his extensive body of work – more than 20 novels and collections of short stories – are translated in English. Saeed's 1981 Saadam City, or I am the one who saw, as it is titled in Arabic, was issued in translation in 2003 by the Beirut and London based Saqi Books. In 2011 Syracuse University Press published The World Through the Eyes of Angels, the three translators having won the 2010 King Fahd Center for Middle East and Islamic Studies Translation of Arabic Literature Award for a manuscript translation, bringing Saeed, who lives in the United States, a broader readership there. Interlink then followed up in 2013 with a translation of Saeed's 1970 political novel, Ben Barka Lane. These last two books are important for an Anglophone readership as they recount the experience and insight of an Arab leftist, one who truly suffered under the regimes which have recently collapsed, or are currently teetering, and who was part of a secular left movement which has been erased from the world's historical memory by parties from all sides in the modern Middle East and North Africa.
Clearly, some of Saeed's work is autobiographical and some texts concern the life of an Arab intellectual in the era, with accounts of arbitrary detention and imprisonment, torture and acts of brutality. Yet, The World through the Eyes of Angels is a book which is not directly political and is really a poignant memoir, a recounting of life in Mosul (Iraq) in the late 1950s through the eyes of a pre-adolescent boy, an interesting point of view which brought coherence to Ziad Doueiri's successful film, "West Beirut". Saeed's book and Doueiri's film – and a good deal of western scholarship about the region – share just that, a nostalgia for a formerly multi-confessional, even cosmopolitan Arab city, prior to the major Arab-Israeli wars and the subsequent collapse or deformation of secular nationalist regimes in the region. Of course, this nostalgia for the cosmopolitan Oriental city is rooted in well-worn 19th century postcards and commercial photographs by Bonfils and other studios in the region – panoramic views paired with detailed shots of the souks and casbahs of Algiers, Cairo, Beirut, Damascus, and, of course Alexandria. The modern viewer is reminded that these cities were once multi-confessional, without checkpoints and the kind of sectarian divides of our own era.
Still, we must be careful with our cosmopolitan longings here, and I think Saeed's book provides the appropriate measure of caution. Saeed tells us of life in the souk area of Mosul, the famed Atami market, a commercial area dominated by a Sunni majority, but sprinkled with businesses run by others – Christian, Jewish, Armenian, and Kurdish – an area which was both his childhood neighborhood and playground. The narrator's family runs a small cloth business, and his father is also a local mullah, a position which is key to several aspects of the narrative. Saeed recounts religious lessons at the local Koranic school followed by wonderful stories told by the beloved, though lice-ridden Hajj Ahmad al-Shahdi. Yet, the Koran-based Arabic lessons of the mullah's school proved decisive in the trajectory of the young narrator's life as his ability to read and write in Arabic brought him to the attention of his school teacher, the blond Miss Khadijah, and then a succession female friends who were important, and tragic, figures in his early life.
The stories of Saeed's friendships with these girls and women make up the bulk of the book, and certainly mark the most poignant and genuinely moving moments. First, there was the starved and poverty-striken Selam, followed by the beautiful adult Christian seamstress Madeleine, then the young daughter of his Jewish neighbors, Sumaya, and finally a member of Saeed's family, Shafaq. The first three were all love objects for the young Saeed, an aspect of the book which might present problems, as the sexualized Arab woman is over-determined for both a Western and Arab readership, that is, after at least two centuries of Orientalist sex fantasy literature and pop culture. Yet we have to consider that though the narrator is now an older man, his memories are those of a pre-adolescent boy, and he renders the mix of pure lust with a certain innocence. There is little doubt that the love and loss he felt, and still feels from Selam and Sumaya are sincere.
Sumaya's story brings an important historical dimension to Saeed's memoir. The narrator met Sumaya when he was invited to dinner and party given by the family of his best friend, Sami Mukhlif, the son of a neighboring Jewish shopkeeper. Apparently some time prior the narrator had spoken up for Sami when falsely accused of attacking a young Muslim boy – he was bleeding from a cut on his head – who had actually been the aggressor. The latter's father appeared with his bleeding child shouting anti-Semitic charges to a gathering crowd. Of course this is a scene which could have turned murderous if the young Saeed had not spoken up for his friend and charged the other boy as the aggressor, an intervention which was swiftly backed up by the narrator's father, the mullah, who bluntly told the father of the Muslim child to go home and take care of his injured son.
With this scene we realize that the sectarian division of the city is very real, and the Jewish residents laud the young Saeed for his righteous defence of his friend. He is subsequently invited to a community feast where he meets, Sumaya, a young Jewish girl from Sami's family who, literally, throws herself upon him, a bewildered, yet pleased near-teenage boy. Of course Saeed falls in love too, but then Sumaya, her family, indeed the entire community suddenly disappear one day without prior notice or explanation. Contemporary readers know that they have fled Iraq, as so many Sephardic and Arab Jews did in the period, for Israel and other destinations around the world, but our narrator was too young to realize the historical dimension of his loss.
Ben Barka Lane is a very different novel in tone and genre. Of course it was published much earlier than The World and it is far from a narrative of childhood memories, rather a novel grounded in the politics of the 1960s in North Africa and the Middle East. It was originally published in 1970 with a title derived from the name of a famous Moroccan leftist leader, Medhi Ben Barka, who, while in exile, disappeared in Paris, abducted with the combined efforts of the French and Moroccan secret service. Indeed, one of the key players of the time and in the disappearance of Ben Barka, the Moroccan interior minister, Mohammed Oufkir, is even mentioned by name giving us insight into the gist of this novel. It is a political novel, and it is a political novel about the Arab left, a movement about which there is little scholarship in English, and only a little more in Arabic.
Ben Barka Lane is also a title which resonates with Mahfouz's Midaq Alley, and suggests a poor, overcrowded neighborhood. The novel is set in a neighborhood of Mohammediya, a city in Morocco near the larger and better known Casablanca and Rabat, and is the account of a few months in the life of an Iraqi political exile and Arabic language teacher, known as al-Sharqi. Given the setting, Morocco, in a city near Casablanca, we might expect a political novel, either a kind of political roman à clef of the period, with intrigue and figures such the recently deceased Jacques Vergas, the lawyer for the FLN and various Palestinian groups, or a spy novel, or both.
Still, Ben Barka Lane offers a little more, in its particular fashion. Like The World this novel is centered around women, a succession of them, though one in particular, Ruqayya, As her name suggests, she is the object of desire, whom the narrator meets in passing at the beginning of the novel, while meeting some of his political comrades. She is completely covered in an old jellaba, as he escorts her to his house and the adjoining apartment, owned by an absent Algerian friend, known, aptly, as al Jaza'iri, where she has arranged to stay. As we might expect, Ruqayya is beautiful and younger, as the narrator discovers to his surprise a few chapters later, and, of course, he is entranced and falls in love. Though she is clearly a practiced flirt, and skilled in the flirtatious banter with which she and the narrator speak throughout the novel, she is not interested in him at all, but, rather, to the surprise of the narrator, announces that she wants to seduce his older comrade, Habib, a man who has been internally exiled by the Moroccan government to the same neighborhood in Mohammediya.
The novel tracks the narrator's increasing obsession with Ruqayya, her rejection, and then his disillusionment with her, all the way to a tragic and inconclusive end. Along the way there are other women, that is, students, former students, barmaids, escorts, shop-girls, and neighbors, with whom the narrator has dalliances, on the beach, in restaurants, shops, and private apartments, though there is no sexual intimacy and little emotional intimacy.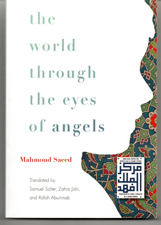 For some Ben Barka Lane is all about the male narrator's relations with women where nothing is realized, that is, there are no sex scenes, not even descriptions of the women's bodies, only glimpses of obvious, curvaceous outlines under clothing. It might be that this is all we can expect from a novel written in the terms of a conservative and moralistic culture, or at least written in terms which will not violate the laws and sensibilities of the same culture. Perhaps there is something here, particularly so in the latter respect, but I suggest there is more. This space, this small area of Mohammediya, is claustrophobic and unnatural. Friendships and liaisons are forced in this space, and though the narrator occasionally leaves for casinos or places outside the city, he always returns. Indeed, those outside spaces – such as the house of the nouveau riche and of the venal former student of Habib, Idris, who keeps a kind of exotic hothouse complete with captive women servants, exploited citrus workers, and armed guards – are suffocating and lifeless too where the narrator lacks the company of fellow exiles. And so, sex in any sensual sense, or emotional intimacy as such are impossible in the social space of Ben Barka Lane. Political exile here kills the spirit, distorting the desires of normal life – love, friendship, struggle – into sets of useless, meaningless, impotent gestures.
Published in Banipal 48 – Narrating Marrakech