Past Events
12-16 October 2011
Four day event
Frankfurt Book Fair
The Frankfurt Bookfair offered many great great opportunities to meet translators, authors and publishers from all over the world. Invited to hold a stall in the Weltempfang, formally the International Hall, Banipal was in the company of publishers and translation companies from across the Middle East, smaller European countries, Russia, Turkey and Iran.
A fascinating programme of talks and readings ran throughout the fair, a number of which were of particular interest to Banipal.
'Boualem Sansal, winner of the Peace Prize of the German Book Trade 2011 meets fellow writer Ilija Trojanow'. The authors discussed Sansal's works and the reasons they have received such high commendation in a conversation chaired by Joseph Hanimann (pictured left).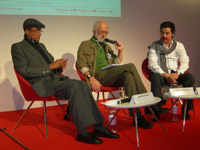 Literary awards and their effect on the international book market Award-winning Libyan author Ibrahim al-Koni (left) and author and editor Nasser al-Dhaheri (right) from the UAE discussed the Sheikh Zayed Book Award and its effect on the standing of Arab literature on the world stage. The authors gave insight into their own personal experiences in a discussion chaired by Hartmut Fähndrich, who has translated many of Ibrahim al-Koni's novels into German.
Migrant authors in the Mediterranean region North African authors Abdelkader Djemai, Algeria-France (near left), Najat El Hachmi, Morocco-Catalan (right) and Amara Lakhous, Algeria-Italy (second left) described their own experiences of migration and talked about popular perceptions of authors from immigrant backgrounds, as well as the influences of different cultures on their work in a conversation chaired by Kersten Knipp (with microphone).
The European Capital of Culture 2012 – Maribor in Slovenia Slovenian author and art historian Marjeta Ciglenecki and author and historian Tamara Griesser-Pecar discussed the merits of Maribor and the reasons for its selection as European Capital of Culture 2012. Banipal is very proud to have worked with the Slovenia-based Euro-Mediterranean University (EMUNI), established in 2008 during the European Year of Intercultural Dialogue.
Banipal contributed to this dialogue by publishing works of Slovenian fiction writers and poets in the magazine's first guest literature feature (see Banipal 41).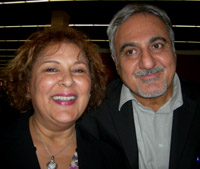 Banipal editor Samuel Shimon with Egyptian publisher Fatma El-Boudy, founder of the dynamic literary publishing house Al-Ain Publishing, based in Cairo. To read an interview with Fatma El-Boudy in English Al-AhramOnline, click here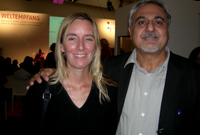 Samuel Shimon with Jenny Friedrich-Freksa, editor of Kultur Austausch (Cultural Exchange). In the latest edition of the magazine Samuel write about his experiences of homelessness in Paris. For details of the edition, click here.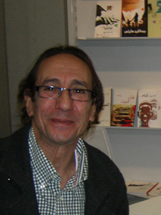 Mohammed Hashem, author, publisher and founder of the independent publishing house Merit, based in Cairo. Mohammed met with foreign publishers at the fair to promote the translation and publication of his authors' works internationally.