Maram al-Massri (al-Masri)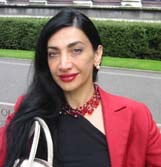 is from Lattakia in Syria, now settled in Paris. She studied English Literature at Damascus University before starting publishing her poetry in Arab magazines in the 1970s. Today she is considered one of the most renowned and captivating feminine voices of her generation.

Besides numerous poems published in literary journals, in several Arab anthologies and in various international anthologies, she has published several collections of poems. Thus far her work has been translated into eight languages.
Maram al-Masri has participated in many international festivals of poetry in France and abroad. She has been awarded the "Adonis Prize" of the Lebanese Cultural Forum for the best creative work in Arabic in 1998, the "Premio Citta di Calopezzati" for the section "Poesie de la Mediterranee" and the "Prix d'Automne 2007" of the Societe des gens de letters.

Her poetry collections include "Karra humra' ala bilat abyad" (Red Cherry on the White Floor) and "Undhur Ilayk" (I look at you).

A selection of poems from the first collection were published in Banipal 4, translated by Khaled Mattawa, and then picked up by Bloodaxe publisher Neil Astley, who published the whole collection in a bilingual edition in 2004. Also in 2004, Maram al-Masri joined Sargon Boulus, Hassouna Mosbahi and Samuel Shimon in the first-ever Arab author events at the Dublin Writers Festival, organised by Banipal and Pat Boran, then festival director.
Click here to read the review in Banipal 21 of A Red Cherry on a White Tiled Floor by Guy Bennett
---
Contributor's Issues
Banipal 43 - Celebrating Denys Johnson-Davies (2012)