Younis al-Akhzami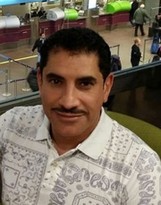 Younis al-Akhzami is a writer from Oman, born in 1968. He headed the Short Story Writers Association in Oman in 2006 and 2007 and was one of its founders. He has been a judge on many local literary competitions for unpublished short stories and novels.
His works include the short story collections, An-'atheer (The Forerunner), International Press, Muscat, 1992; Habs an-'Nawras (Locking the Seagull). Arab Foundation for Studies and Publishing, Beirut 1996; and Nuqoosh (Inscriptions), Nizwa Publishing, Muscat, 2007).
From 2012 he turned to writing novels: Al Sawt (The Sound) published by Dar Al-Intishar, Amman, 2012; Bar Alhekman, part 1 of his Arabian Sea trilogy of novels, published by Dar Question, Beirut 2016; Kahf Adam (Adam's Cave), Dar Arab, London 2018; Ghabta Hashish, part 2 of trilogy, Dar Arab, London 2018; Bedoon (Without), Dar Arab London 2019; and Ras Madrakah, third part of trilogy, presently under print.
---
Contributor's Issues