Abdo Wazen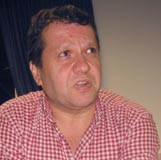 Abdo Wazen was born in Beirut in 1957. He is a poet, literary critic and translator. He is currently literary editor of the online Independent Arabia (https://www.independentarabia.com/), after serving as cultural editor of the international daily Al-Hayat newspaper for many years until its demise.

Abdo Wazen is also a well-known translator of poetry from French into Arabic. He published his first collection of poems The Locked Forest in 1982, and since then six others. Copies of his book, Hadiqat al-Hawas (Garden of Sensation, 1993) were seized by the Lebanese Ministry of Interior on accusations of licentiousness.

In 1997 his translation of Jacques Prevert: 50 Poems was published by Dar An-Nahar. He later translated and introduced Nadia Twueni: 20 poems for a Love. Diwan al-Hallaj, edited and introduced by Abdo Wazen, is highly regarded.

His memoir, An Open Heart, was written after he underwent a major heart operation in 2010, and is excerpted in Banipal 40 – Libyan Fiction.


---
Contributor's Issues
Banipal 34 - The World of Arab Fiction (2009)
Banipal 53 - The Short Stories of Zakaria Tamer (2015)
Banipal 64 - A Rebel named Hanan al-Shaykh (2019)
Banipal 71 - Salutes Ihsan Abdel Kouddous
Banipal 58 - Arab Literary Awards (Spring 2017)
Banipal 33 - Autumn/Winter 2008
Banipal 68 - Short Stories (Summer 2020)
Banipal 40 - Libyan Fiction (2011)
Banipal 66 - Travels (Autumn/Winter 2019)
Banipal 67 - Elias Khoury, The Novelist (Spring 2020)
Banipal 69 - 9 New Novels (Autumn/Winter 2020)
Banipal 62 - A Literary Journey through Arab Cinema (2018)
Banipal 41 - Celebrating Adonis (2011)