Shaima Issa al-Watani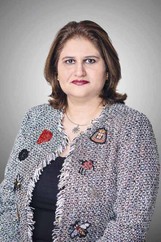 Shaima Issa al-Watani is a writer and journalist from Bahrain and is a member of the Bahrain Writers' Association. She studied architecture. Since 2014 she has published four works. Her novel Al-Matmourah won the Novel Prize of the 2018 Sharjah Cultural Award for Gulf Women. She has a regular column in the Emirati Zahrat al-Khaleej magazine.
Her novel Al-Matmourah (The Buried) has won two Gulf literary
awards, and features, with a translated excerpt and a review, as one of the 9 New Novels in Banipal 69. The novel's protagonist Gharib returns to his natal village of Al-Matmourah after 25 years exile, still trying to find peace with himself for leaving.
---
Contributor's Issues
Banipal 69 - 9 New Novels (Autumn/Winter 2020)