Rawi Hage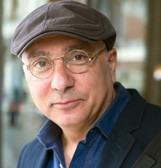 Rawi Hage was born in Beirut in 1964 and grew up during the civil war in Lebanon. He left for New York when he was 18 years old. After adopting the English language there and earning his living as a salesperson and warehouse worker among other various jobs for 8 years, when his visa expired in 1991 he moved to Canada. In Montreal he studied photography and a few years later was exhibiting his photographs. He started writing by accident – saying of himself: "I am an accidental writer" – when he travelled through Canada as a photographer and was asked to provide written documentation of his work. Instead of submitting sober, technical reports he accompanied his photographs with short stories that were received very positively.

He is the author of three best-selling novels, Carnival (2012), Cockroach (2008) and De Niro's Game (2006). Each was awarded the Hugh MacLennan Prize for Fiction, with De Niro's game also winning the international IMPAC prize and the McAuslan First Book Prize.
For more information about Rawi Hage, click here
Click here to read the review of Carnival by Susannah Tarbush in Banipal 48 (2013).

Click here to read the review of Cockroach by Amir Taheri in Banipal 36 (2009).
Click here to read the review of De Niro's Game by Zuzana Kratka in Banipal 28 (2007).
---
Contributor's Issues
Banipal 54 - ECHOES (Autumn/Winter 2015)
Banipal 51 - Celebrating Saadi Youssef (2014)