Zakaria Tamer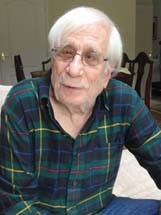 Zakaria Tamer was born in Al-Bahsa neighbourhood of Damascus on 2 January 1931. In 1944, at the age of 13, he was forced to leave school to provide for his family by working as a blacksmith in a factory in the neighbourhood. But he continued his education at night, reading Arab and foreign authors.

His first short stories were published in newspapers in the late 1950s. His talent caught the attention of Syrian poet Yusuf al-Khal, editor of the magazine Shi'r, who decided to publish Zakaria's first collection Saheel al-Jawad al-Abyad (The Neighing of the White Horse) in 1960. Thanks to its success, he was offered a job as a government official in the Writers and Publishing Department of the Syrian Ministry of Culture (1960-1963), and from 1963 to 1965 he worked as an editor for Al-Mawqif Al-Adabi, a periodical of literary criticism. In 1963 Zakaria also published his second collection Rabi'a fi-l Ramad (Spring in the Ashes). In 1965-1966 he worked for Jeddah television in Saudi Arabia as a screenwriter.

Two years later he returned to Damascus where he started working at the Syria Ministry of Information and was head of Syrian television's drama department 1967 to 1970. His third collection of short stories, Al-Ra'd (The Thunder), came out in 1970 followed by Dimashq al-Haraiq (Damascus Fire) in 1973.

He worked as editor-in-chief of several magazines: Rafi', a periodical for children, in 1970-1971, Al-Mawqif Al-Adabi from 1972 to 1975, the children magazine Osama, from 1975 to 1977, and the cultural magazine Al-Ma'rifa from 1978 to 1980. In addition, Zakaria Tamer took part in the establishment of the Arab Writers Union in Syria in 1969 and was its deputy chairman for four years.

In 1978 he published Al-Numur fi al-Yawm al-Ashir (The Tigers on the Tenth Day). A volume of stories, with the title story "Tigers on the Tenth Day", featuring stories from different collections, translated by Denys Johnson-Davies was published by Quartet Books in 1985.

In the early 1980s, after publishing some excerpts from Taba'i Al-Istibdad (The Characteristics of Despotism) by Abd Al-Rahman Al-Kawakibi in which the author condemns tyranny, Zakaria Tamer was forced to resign from his position at Al-Ma'rifa. Soon after that he moved to the UK, but carried on working for Arab magazines. In 1981-1982 he was managing editor of Al-Dustour, then from 1983 to 1988 he worked as culture editor of Al-Tadhamon. From 1988 to 1993 he was managing editor of Al-Naqid (The Critic) as well as culture editor at Riad El-Rayyes publishing house, both of which played very important roles in the development of the Arabic literary scene in the 1990s. He also authored a daily column in Al-Quds Al-Arabi for five years, 1989 to 1994.

Sixteen years after The Tigers on the Tenth Day, he resumed publishing collections of short stories, among which Nida'a Nouh (Noah's Summons) in 1994, Sanadhak (We Shall Laugh), IF! in 1998, and Al-Hisrim (Sour Grapes) in 2000.

In 2002 he wrote a regular column in the London-based Azzaman newspaper and in 2006 in the Syrian daily Al-Thawra. Taksir Rukab (Breaking Knees) was published in 2002 and translated into English in its entirety by Ibrahim Muhawi, published by Garnet in 2008. His latest work, a novella Al-Qunfuth (The Hedgehog), came out in 2005 and was published in English translation by Brian O'Rourke, along with translations of a few other stories, and a reprint of the Quartet Books stories, by AUC Press in 2009.

He also published two collections of satirical articles, Amjad Ya Arab Amjad (Glories, Arabs, Glories) in 1986 and Hija al-Qatil li-Qatilhi (The Victim's Satire of his Killer), and two collections of children's stories, Limada Sakata al-Nahr? (Why did the River stop Talking?) in 1973 and Qalit al-Warda Lilsununu (The Flower Spoke to the Bird) in 1978.

In March 2015 Zakaria Tamer was awarded the 2015 Mahmoud Darwish Award for Freedom and Creativity. Earlier awards include the Sultan Bin Ali Al Owais Cultural Foundation's prize for Stories, Novels and Drama in 2001, the Syrian Order of Merit in 2002, the Cairo first Short Story Prize in 2009 and in the same year the Blue Metropolis Literary Prize.

Since 2012, he has been writing regularly on his Facebook page Al-Mihmaz, which features very short stories and satirical pieces in support of the Syrian revolution.
---
Contributor's Issues
Banipal 53 - The Short Stories of Zakaria Tamer (2015)
Banipal 34 - The World of Arab Fiction (2009)
Banipal 49 - A Cornucopia of Short Stories (2014)