Ammar Ali Hassan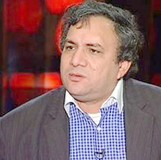 Ammar Ali Hassan (b. 1967) is an Egyptian novelist, literary critic, journalist and a scholar of socio-politics. He holds an MA and PhD in Political Science, and since 2010 has been a full-time writer.
His literary works to date include ten novels, eight collections of short stories, four works of literary criticism, and an autobiography. In addition he has published numerous works on political sociology. His works are recognized internationally and translated into many languages.
The many awards he has received include the Sheikh Zayed Book Award (2010), Egyptian Writers Union Fiction Award, El-Tayeb Salih Award for Creative Writing (twice), Cairo University Short Story Award, Hazza Bin Zayed Book Award for Children's Literature, Akhbar Al-Adab Short Story Award, and the Egyptian Government Excellence Award.
---
Contributor's Issues
Banipal 73 - Fiction Past and Present