Abeer Esber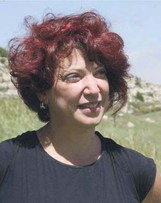 Abeer Esber is a Syrian writer and filmmaker. Born in Damascus in 1974, she holds a BA in English from the University of Damascus.
Her latest work was a TV series titled Al Obour (The Crossing). She is currently studying Media and Communication at LaSalle College, Montreal, Canada.
Her literary works include four novels: Lulu, for which she received Hanna Mina Prize in Syria in 2003; Manazil al-Ghiyyab (House of Absence), which won first prize in the Damascus: Arab Capital of Culture festival in 2008; Qasqis Waraq (Cutting Paper), in 2009; and Suqout Hurr (Free Fall), Beirut, 2019, which was excerpted in Banipal 68 – Short Stories (Summer 2020).
---
Contributor's Issues
Banipal 68 - Short Stories (Summer 2020)