Salah Faik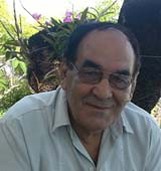 Salah Faik was born in 1945 in Kirkuk, Iraq. He began publishing his poetry in 1964 and in 1975 published his first collection Raha'in (Hostages) in Damascus, Syria. Following this came seven other poetry collections. While he was living in London in the 1970s and 1980s he published two collections in English, Another Fire Befitting a City (1979) and The Lode, the Word (1985).

A selection of his poetry was published in French translation by the Syrian poet Salah Diab (Al Manar, 2011) and his collection Raheel (Departure) was published in Kurdish translation by Makram Rasheed Talabani in 2010. He has also published three poetry collections on his official Facebook page.

Salah Faik currently lives in the Philippines.
---
Contributor's Issues
Banipal 46 - 80 New Poems (2013)