Radwa Ashour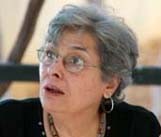 Radwa Ashour was an Egyptian writer and scholar born in Cairo, Egypt in 1946. Ashour has published 8 novels, an autobiographical work, 2 collections of short stories and 5 criticism books. Her novels and short stories have been translated into several languages, mainly English, Spanish, Italian and Indonesian.
As an editor Ashour has co-edited a major 4-volume work on Arab women writers (2004) and she has edited the Arabic translation of Vol. 9 of The Cambridge History of Literary Criticism (2005).
As a translator Ashour has translated, Mourid Barghouti's Midnight and Other Poems (2008).
Ashour's Granada (Part I) was awarded the Cairo International Book Fair 'Book of the Year Award' for 1994; in November 1995 The Granada Trilogy won the first prize of the Arab Woman Book Fair, Cairo. In 2007 Ashour was awarded Constantine Cavafy Prize for Literature. In 2009 she was awarded the Tarquinia Cardarelli International Criticism Prize. In 2011 she received The Pescara Bruzzo Nord Sud International Prize for literature novel and the Sultan al-'Oweiss Award for the novel.
---
Contributor's Issues
Banipal 52 - New Fiction (2015)