Jalil Haydar (Haidar)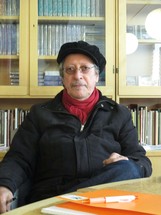 Jalil Haydar is an Iraqi poet, born in Baghdad in 1945. He has worked on newspapers in Baghdad, and then in Damascus and Cyprus after leaving Iraq in 1979.

He lives in Malmo, Sweden. He has published nine collections of poems, with some translations in Banipals 5, 41 and 54.
---
Contributor's Issues
Banipal 54 - ECHOES (Autumn/Winter 2015)
Banipal 41 - Celebrating Adonis (2011)