Mo Mesrati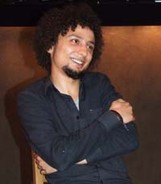 Mo Mesrati was born in 1990 in Tripoli, Libya. He started publishing his short stories at an early age on Kikah.com and several literary websites in Arabic. In 2010, he joined Ghazi Gheblawi to produce and present Imtidad Podcast, a cultural series of podcasts focusing on arts and literature in the Arab world and Britain.
When the Libyan uprisings started on February 2011, Mesrati became involved as an activist, and later on as an investigative journalist at El Kef newspaper. His work featured in several anthologies and magazines including Banipal 40 – Libyan Fiction (March 2011) and Writing Revolution: The Voices from Tunis to Damascus (I B Tauris, 2013). He published his first collection of short stories marciapiede in 2014. He lives in London.
In July 2012, Christopher Haydon, artistic director of the Gate Theatre, Notting Hill in West London, invited him to put on a reading from his essay "Bayou and Leila", and discuss the events in Libya. The reading followed a performance of Iraqi playwriter Hassan Abdulrazzak's play The Prophet about the Egyptian revolution.
Mo Mesrati was interviewed afterwards by the Tanjara Blogspot, run by Susannah Tarbush. Click here for the interview.

He was previously interviewed in 2011 by Tanjara. To read that interview, click here.
---
Contributor's Issues
Banipal 40 - Libyan Fiction (2011)