Hanan al-Shaykh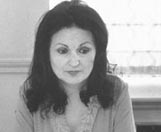 Hanan al-Shaykh is an award-winning novelist, playwright and journalist. She was born in Lebanon, and grew up there, moving to Cairo when she was a teenager and writing her first novel there. Back in Beirut, she became a journalist with the Arabic press. She later lived in the Gulf before settling in London, where she still lives.
Her first novel translated to English was The Story of Zahra (trans. Peter Ford, Quartet Books, 1986). Then came translations, all by Catherine Cobham, of Women of Sand and Myrrh (Quartet, 1989), Beirut Blues (Doubleday, 1995), Only in London (Bloomsbury 2001) and a collection of short stories, I Sweep the Sun off Rooftops (Bloomsbury, 2002). A later short-story collection is a retelling of stories from One Thousand and One Nights. Her latest novel is The Occasional Virgin. She also published a memoir about her mother, The Locust and the Bird. Her plays include Dark Afternoon Tea and Paper Husband.
Hanan al-Shaykh is the featured author of Banipal 64 – A Rebel named Hanan al-Shaykh (Spring 2019), which includes an in-depth interview, the play Dark Afternoon Tea and reviews of a number of her novels.
---
Contributor's Issues
Banipal 64 - A Rebel named Hanan al-Shaykh (2019)