Adel Karasholi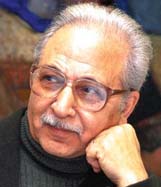 was born in Damascus, Syria, in 1936 to Kurdish parents. A member of the Arab Writers Association, he left Syria in 1957 after it was banned.

In 1961 – via Beirut, Munich and West Berlin – he arrived in Leipzig, where he still lives today. He studied literature and theatre at the University of Leipzig's German Institute of Literature, and in 1970 completed PhD on the theatre of Bertolt Brecht. He taught at the University 1968–1993 before becoming a full-time writer.

In 1985 he was awarded Leipzig city's Art Prize and in 1992 the Adelbert von Chamisso Prize for his poetry. He is presently the president of the Leipzig Writers Association.

He has more than six poetry collections in German in addition to poetry and essays written in both Arabic and German, as well as a collection of plays, poems and stories from German into Arabic. Selected poems are published in Banipal 32, in the Feature on Contemporary Syrian Literature, part 2.


---
Contributor's Issues