May Menassa (1939–2019)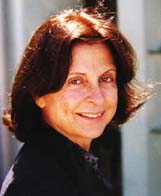 May Menassa (1939–2019) was a pioneering journalist and highly regarded novelist and critic, who was born in Beirut, and held a postgraduate diploma in French Literature.
She published ten novels, as well as two children's books and many translations, mainly from French. Her first, Pages from Notebooks of a Pomegranate Tree, was published in 1998. Her fifth, Walking in the Dust, which tells the powerful story of dealing with tragedy and loss in war from a very young age, was shortlisted for the inaugural International Prize for Arabic Fiction. An excerpt from it, translated by Paula Haydar, was published in Banipal 32, Summer 2008. To date, this is the only part of her work translated into English.
May Menassa began her journalistic career in television in 1959, where she was the first woman TV journalist. In 1969 she started work as literary and music critic for the Lebanese daily newspaper An Nahar, continuing there for much of her career. Her sister is the renowned poet Vénus Khoury-Ghata.
Her passing came just two weeks after her latest novel I Killed My Mother in Order to Live was longlisted for the 2019 International Prize for Arabic Fiction.
---
Contributor's Issues