Salam Sarhan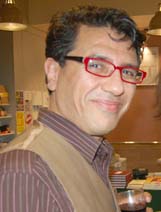 was born in Iraq in 1961. A poet and journalist, he lives in London and works in TV broadcasting. He graduated with B.A. Economics in 1984 from Al-Mustansiriyah University in Iraq. He has published two poetry books and the third is to be published soon; "Abolishing the Questions" Baghdad 1989; "The Horizon of Desire" Beirut 1997; "Salam Sarhan" to be published 2012. Some of his poetry has been translated into English and Spanish.
He has also had hundreds of articles published on a broad range of issues including politics, reviews, criticism, heritage, and literature. These have been published in numerous publications in many countries.
He has been involved in the media since 1984, and has been News Editor, Reporter, Cultural Editor and TV Producer/Presenter for Cultural, news and business programmes on BBC and Al Arabiya TV, among others.
---
Contributor's Issues