Ammiel Alcalay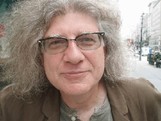 is a poet, translator, critic and scholar. He teaches at Queens College, New York, and is former chair of Classical, Middle Eastern & Asian Languages & Cultures; he is on the Medieval Studies and Comparative Literature faculty at the CUNY Graduate Centre.
His books include After Jews and Arabs, Memories of Our Future, Keys to the Garden, From the Warring Factions, and A Little History. Published in 2021 are A Dove in Free Flight, poems by Faraj Bayrakdar, with Shareah Taleghani and the New York Translation Collective, Ghost Talk, and A Bibliography for After Jews & Arabs. Also a co-translation (with Oz Shelach), of Outcast by Shimon Ballas (City Lights, 2007).
He received a 2017 American Book Award from the Before Columbus Foundation for his work as founder and General Editor of Lost & Found: The CUNY Poetics Document Initiative (lostandfoundbooks.org).
His poetry, prose, reviews, critical articles, editorials and translations have appeared in many US publications.
---
Contributor's Issues
Banipal 72 - Iraqi Jewish Writers