Hesham Bahari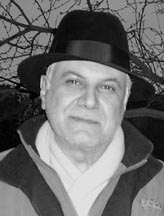 is the author of two novels in the Swedish language, and the publisher of Alhambra Förlag in Sweden. He settled there in 1976, and after studying Linguistics at Lund University, began, with his Swedish wife, to translate the two Arabic works he had taken to Sweden with him – a novel by Naguib Mahfouz Tharthara fawq al-Nil and a collection of poems by Adonis Waqtun bayn al-Ramad wal-Ward.

After Mahfouz became the Nobel Laureate of Literature in 1988, Alhambra established itself, and since then has published some 200 titles, average one new title every month.

For the full interview with Hesham Bahari see Banipal No 28 Interview with a Publisher.
---
Contributor's Issues