Haifa Bitar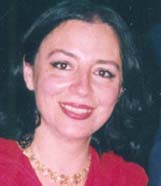 is a Syrian author and ophthalmologist, born in Latakia in 1960. She has published eleven collections of short stories and nine novels, including the much praised "A Woman of This Modern Age".
She is a regular contributor of literary reviews to numerous Arabic-language newspapers, appears as a guest on Arabic cultural television programmes.
Among her awards is the Abu Al-Qassim Al-Shabi Prize, awarded in Tunisia for her collection ['The Whore'] in 2003.
Bitar is also a practising ophthalmologist at the National Hospital in Latakia.
---
Contributor's Issues