Hoda Barakat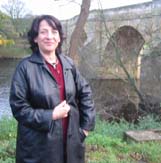 Hoda Barakat is a highly regarded and acclaimed novelist. She was born in 1952 and brought up in Bsharré, Lebanon, the birthplace of Gibran Kahlil Gibran. She studied French literature at the Lebanese University in Beirut, graduating in 1975 at the start of the civil war. She stayed on through the war working as a teacher and journalist, until almost the end.

In 1989 she moved permanently to Paris, where she now works as a radio broadcaster. Her debut novel was a landmark for an Arab woman writer, winning the prestigious Al-Naqid Award for first novels. The English version, The Stone of Laughter, was published by Garnet Publishing as part of their Arab Women Writers series, 1995. Her third Harith Al-Miyah (The Tiller of Waters, trans. Marilyn Booth, AUC 2003) won the 2001 Naguib Mahfouz Medal for Literature.

With three of her novels published in French translation, in February 2002 she was honoured as Chevalier of the Order of Arts and Letters by the French Minister of Culture. In 2005, her novel Disciples of Passion, also trans. Marilyn Booth, was published by Syracuse Univ Press, USA. In 2004, Hoda visited the UK for the first time as one of four Arab authors on the first Banipal Live UK tour.
Her fifth novel The Kingdom of This Earth (2012) reached the IPAF longlist in 2013. In 2015, she was shortlisted for the Man Booker International Prize, given (at that time) every two years to honour a writer's achievement in fiction.
Barakat has featured in Banipal magazine on several occasions including the publication of excerpts from A Tiller of Waters in autumn 2009.
Her latest novel The Night Mail was shortlisted for the 2019 IPAF and excerpted in Banipal 64 (Spring 2019).
---
Contributor's Issues
Banipal 64 - A Rebel named Hanan al-Shaykh (2019)